Musicke Publications

Producing musical works on CD, specializing in 2 track live Stereophonic Acoustical Recordings
The Kings Banquet-Classical Guitar Works-MP3's
Coming Soon is a 3 CD set of the Dirt Road Bluze Band, Our Latest Production done at this studio, Kick ass Bluze!!! The Studio musicians with Guests joining in now and again; what a pleasure it was to produce these Musicians!!!!!
The Studio is a cabin located on Lake Wallenpaupack in the poconos of PA. The 2 track live room is all hardwood with Plants galore, A Jungle,

You can Email DSWhite, for any Questions or you can Visit the Dirt Road Bluze Myspace Page to hear some MP3's which are Downloadable, Or you can play the Entire First CD with the video player below
The Dirt Road Bluze Band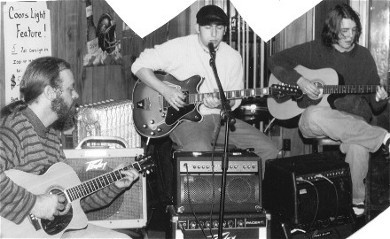 The Dirt Road Bluze CD In Music Video's



(The Video Player Above Has A Volume Control If You Don't Hear Sound)
Also
(The Video Player Above Will Automatically Play The Entire CD)
Zak on lead guitar and vocals,
(some of these recordings were when he was 16 and what an old soul inside!!!)
Andy aka Shaggy on slide guitar,
(wow, he smokes! what a pleasure to play with this soul!!!)
Me aka D S White on slide, rythum & bass guitars, engineer, producer, arranger, leader, etc...
(The one who brings out the magic in the musicians to capture it on tape, ;-)
Ken on Bass on the "Cafe Del Sole" Cd,
(I hired him, he showed up, and man did he Cook!!!)
Misty Dawn on Vocals and rythum guitar,
(I get goose bumps just thinking of her gift, Her Voice runs deep within her soul!!!)
Mike on drums,
(This guy has it, I think he is touring the west coast right now,
He comes complete with cymbles that has chunks broken out of them, lol, aye.... what a gift! Thanks Mike!:-)
BoBo on Harp, this cat has it, one night, Shaggy and I dueled slide on left & right stage and we feed right off of BoBos Harp and man, he feed off of us and YEA!!!!, what a night, :-)
Bill on harp and vocals one night,
doing my one song and a cover and well, he has it also, Hopes he comes around, untill then, hmmmmm?
Branden on Harp,
He loves Blues, he loves his harps, and it shows!!! He ended up coming to the Cafe gig and Was a big part of the magic!, and what a mind, a true creative thinker, :-)
Have any Questions? E-mail DSWhite